The Hebrew Month of Tammuz 2019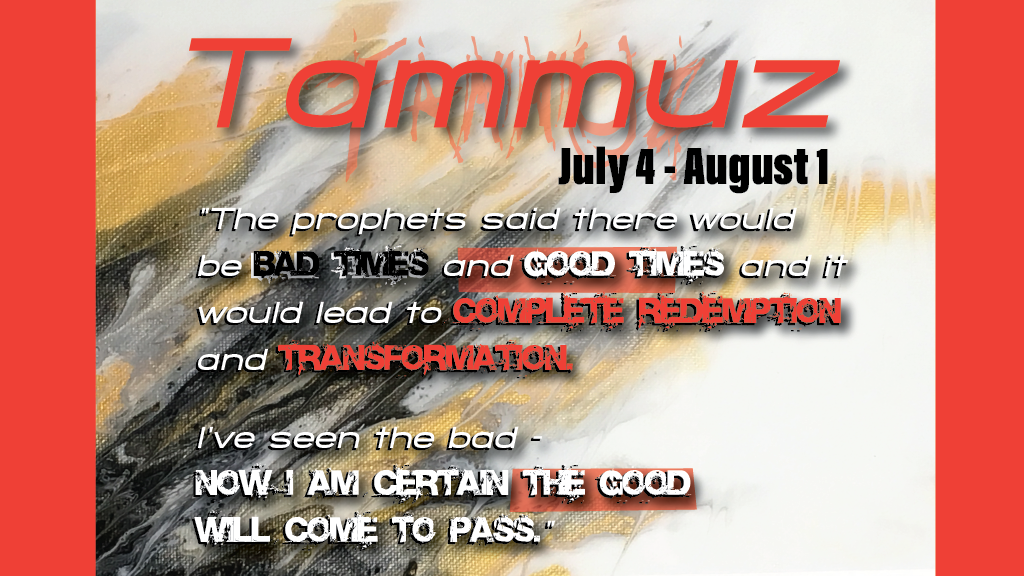 The month of Tammuz - July 4 - August 1 2019
Historically for Israel this is a month of tragedies. It is called the door to three dangerous months. Moses was on Mt Sinai receiving instruction from God. When he came down to deliver the word of the Lord, he found them worshiping a golden calf. That idol worship was birthed out of delay. Moses was taking too long in their opinion. Of all the things they could have focused on. That's a Selah right there!

Moses was on the mount for 40 days and one commentary said on the 39th day, the rebellion began. What...they couldn't wait one more day! They had so much to worship God for. And they couldn't do it one more day. The key to victory: "worship while you wait."

Here's the deal. Delay can birth fear and loss of who He is and who we are in Him. It can lead to self-pity and one bad thing after another. In our day it can sound like this: "I do all the right things and nothing good ever happens. I get over one bad thing and another occurs. Is this all there is?" That becomes a cycle of defeat.

Not today! This month we worship through to breakthrough. The culture of self pity and victimhood are defeated. Tragedy is turned into redemption, restoration and transformation. We can start with this kind of Hebrew thinking - the prophets said there would be bad times and good times and it would lead to complete redemption and transformation. I have seen the bad, NOW I am certain the good will come to pass.

We've got to train ourselves to see things in a faith context. We must develop an ability to see beyond what we see in the natural. We are not talking about letting the devil run over us. When the enemy comes after us, we turn in faith towards the situation, resist the devil and he flees. Done. That's our spiritual warfare.

Even in the face of incredible odds, it can all be transformed. Never lose sight of this - God knows exactly where you are. He will get you what you need to move forward. He will give you strength to receive the grace available in this season. Get to His Throne of Grace. Hebrews 4

Thank you for partnering with us so we all become what God has purposed for us. It's working together to move us in our kingdom assignments.
Transforming...



Sandy Newman and DeeAnn Ward