The Hebrew Month of Elul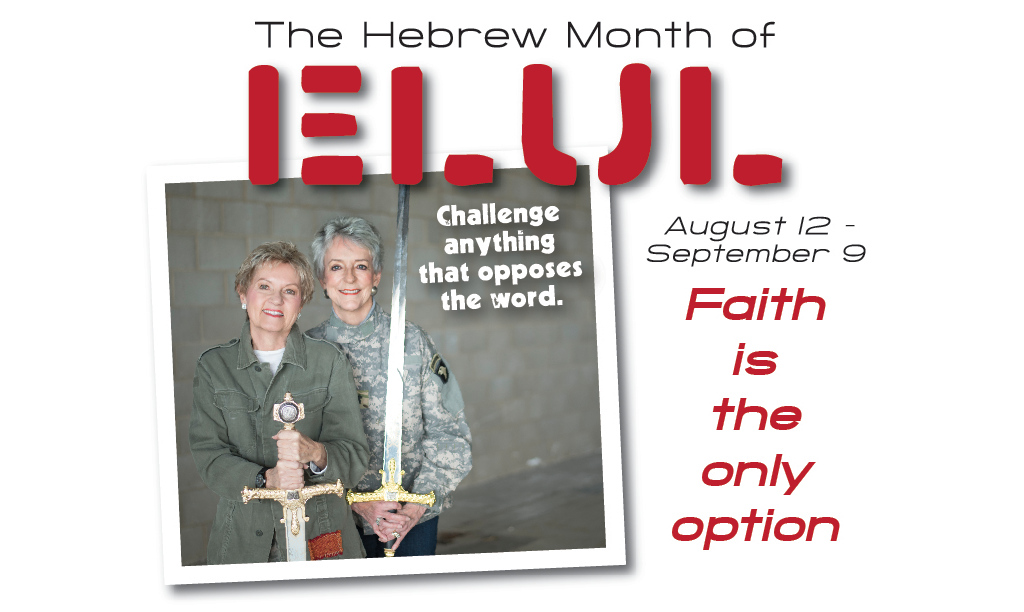 UNDERSTANDING THE SIGNIFICANCE OF THE HEBREW MONTHS:
THE MONTH OF ELUL
AUGUST 12 – SEPTEMBER 9 2018
On the Hebrew calendar, Elul is the last month of the year. It has prophetic insight that will help us close out the year in victory and enter the new year full of faith. Much can be said about Elul, but this sums it up – Elul is the month of God's favor.
Let's activate that – I receive the favor of God.
So much evil is going on in the world today. Without the Lord, fear can overtake us in a minute: but God. More than ever, we are seeing that following and observing the Hebrew calendar provides a blueprint for moving forward in the protection and provision of the Lord.
In ancient days, the king would come out of the palace into a field and set up a tent with no sides. There was no protocol, no appointment had to be made. Access was granted at any time to see the king.
Let's activate that – I have divine access into my new place.
On our regular calendar, August is the 8th month. On the Hebrew calendar, this is the last month of 5778 – Chet is the Hebrew word for the number 8. This number transcends limitations. This number represents a gate. This number represents a new beginning.
Let's activate that – I stand at the gate of new beginnings, with no limitations.
Coming into Elul means:
Change ahead
No more confinement
Enter a broad place
God will surprise the enemy
The Holy Spirit is releasing things that are hidden in darkness and bringing us into a place of access. Do not put words of doubt in your ears. Do not let someone put doubt in your ears. We have come to a place where it really matters like never before in our lifetime. If we nurture faith and not doubt, we will be rewarded in the areas that we have been contending for.
Our faith says this:
I expect God to move in power.
I expect the impossible.
I expect cycles of trauma to break.
I expect to prosper.
DeeAnn and I make these decrees over everyone:
You are entering a new season.
You are prepared to overcome whatever you face.
You walk in a new identity.
Your time is ordered for triumph.
We bless you as we experience the close of an amazing year and get ready for the new.
Thank you again and again for your gifts of friendship, finances, encouragement, insight. It's all appreciated beyond words.
With Great Expectations,


Sandy Newman and DeeAnn Ward