The Hebrew Month of Adar 2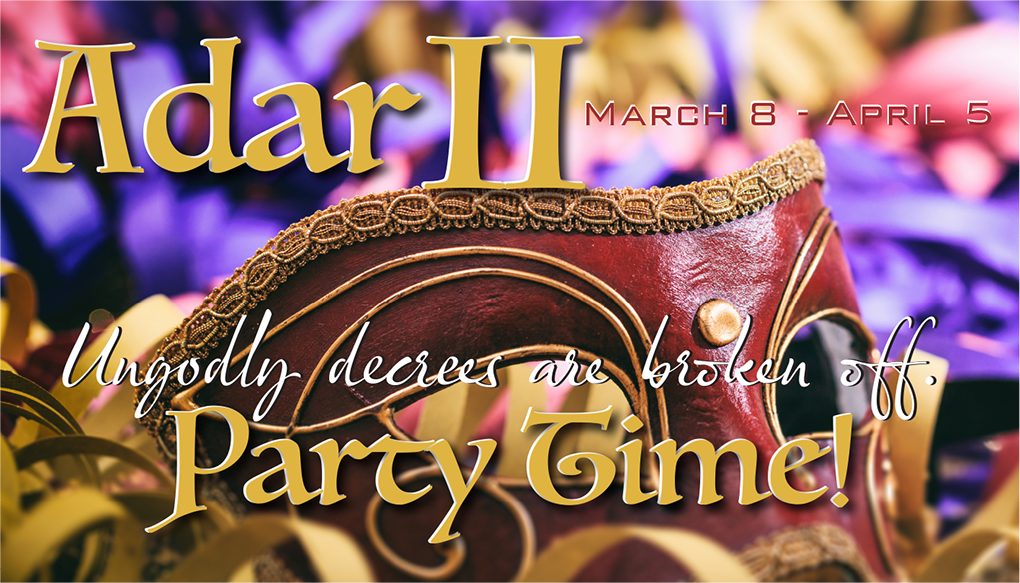 UNDERSTANDING THE SIGNIFICANCE OF THE HEBREW MONTHS
THE MONTH OF ADAR II
MARCH 8 – APRIL 5 2019
As we explained last month, this Hebrew year is a leap year. Adar I was the "extra month." We cut through all the technical information and stated that Adar I gives us an extra 30 days of happy. That lays the foundation for Adar II which is packed with hope. Joy causes our faith to look to the future with great expectation.

David recognized the importance of coming into alignment with God's time for his life. "My times are in Your hands; deliver me from my enemies and from those who persecute me. Let Your face shine on Your servant; save me for Your mercies' sake."
Psalm 31:15-16.

Time is such an important part of our lives. Everything we do is scheduled around time. Let's say to the Lord right now, "my times are in Your hands and I desire to align with heaven's timeframe."

According to Ecclesiastes 3:1, there is a set time for everything and every purpose under heaven.

The prophetic mandate for this month:

• I am staying happy no matter what.
• No weapon formed will prosper.
• A favorable outcome will manifest.
• Use me Lord, for I'm in the kingdom for such a time as this.

The book of Esther is the "book of the month." Read the amazing account of a young girl, orphaned at an early age and raised by her cousin, Mordecai.
You will see the bottom line is this:

• Nothing is too difficult for God.
• God has a way to trump the plans of the enemy.
• Evil decrees can be broken.
• A nation can be saved in a moment.
• Sorrow can be turned to joy.
• The transference of wealth really can happen.

Get your faith and hopes up high. Even in the struggle to believe, remember the two blind men in Matthew 9 who cried out to Jesus for mercy. He said to them, do you believe I am able to do this? Without hesitation, they said, "Yes Lord." Let's say that – without hesitation, "Yes Lord!"

DeeAnn and I are blessing you this month with a faith that goes beyond what you've reached before. Beyond what you've thought you could believe Him for. Beyond all the reasons that contradict your desires. We're not saying that because of who we are. We are saying that because of Who He Is.

Still Happy,



Sandy Newman and DeeAnn Ward