The Hebrew Month of Tevet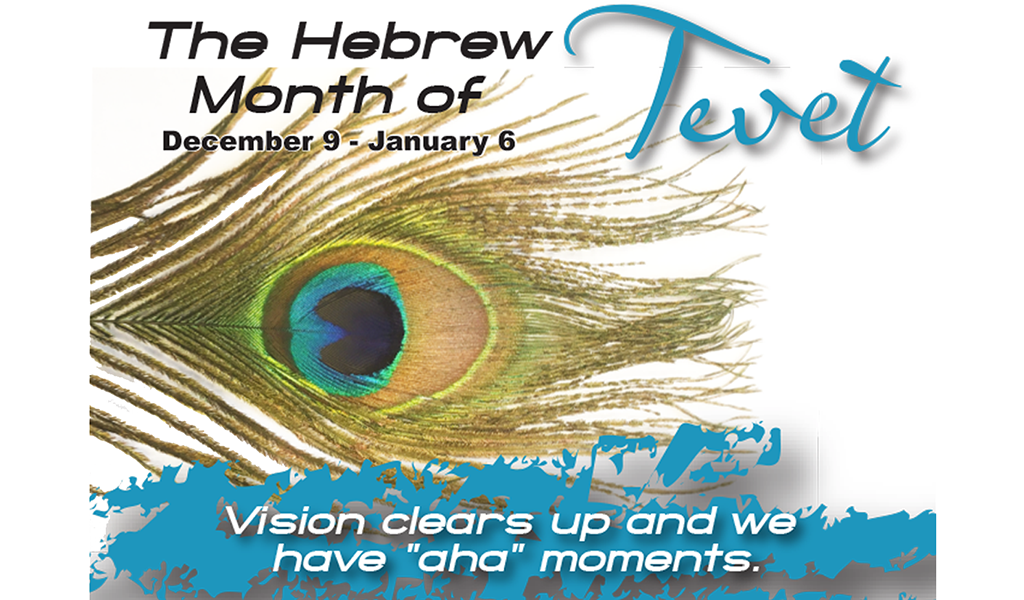 UNDERSTANDING THE SIGNIFICANCE OF THE HEBREW MONTHS
THE MONTH OF TEVET
DECEMBER 9 – JANUARY 6, 2019
We have already begun the Hebrew year of 5779 and soon we'll step into 2019 on our Roman calendar. What's amazing about the Hebrew language is that every number and letter has meaning and timing attached to it. God uses this language to reveal things to us prophetically.

God has a calendar and with each month there are characteristics and principles of faith that move us into a blessing cycle.

The number of the Hebrew year speaks to us: 5779

5700 – May it be the year of
70 – Ayin (letter) come out of captivity; see clearly; see beyond
"May this be the year I get free of everything locking me up or locking me out."
7 – Zayin (letter) come to a triumphant conclusion
"May this be the year every fear, anxiety, hopeless situation is brought to a triumphant conclusion."
9 – Tet (letter) ending/beginning; birthing; womb
"May this be the year the old ends and the new begins."
Tevet – Ayin (letter) come out of captivity; see clearly; see beyond
"May this be the month I get free of everything locking me up or locking me out."

When we align in time with God's calendar, we discover how to find our position of triumph in God's kingdom. Great expectation and confidence in the Lord takes us to a level of relationship with Him and authority we have not known.
Tevet is the "take charge" gate. We transition into 2019 through this gate. This is a month of choices. We must take responsibility, take initiative and choose to announce our future rather than rehearse failures. Here's what can happen if we do not take charge - life experiences can condition and program our behavior for constant drama and stress.
Our choice for this first month into the new year of 2019 is – I will not take the bait of satan. I will walk in order and wisdom. I am over my history. I am in God's cycle of blessing and the new is coming to all confusion and chaos and disappointment.

TEVET DECLARATIONS:
• Everything is aligning in proper order.
• I lack nothing.
• I see what I could not see.
• My future is bright.
• I say yes to all His promises.
• This will be my best, most blessed year.

The reward of faith is to see what we believe. The reward of fear is to see what we believe. Get it. Both faith and fear are beliefs. Beliefs create our reality. Living in fear is limiting and exhausting. Living in faith is liberating and energizing.

In this month of choices, we choose freedom and momentum. We choose happy and fulfilled. We choose justice and restoration. We choose Joy To The World, The Lord Has Come.

DeeAnn and I pray that you will see the reward of your faith in this coming year. We pray there will be a release of the fullness of God's blessings. We pray the surprise of a suddenly will manifest. We pray your relationship with the Lord will become overwhelming. Expect more. Be open to possibilities. See beyond controlling circumstances.

Thank you for your giving this year, your intercession this year, your encouragement this year, your prayer requests this year, your thanks this year. It's made it a year to remember with love and gratefulness. Many like to give an end of the year gift. As always, that gift must be postmarked no later than December 31. You can give online or if needed, call the office and Stephanie will help you.

Happy Hanukkah – a bit late, but heartfelt.
Merry Christmas.
Happy New Year.


Sandy Newman and DeeAnn Ward