The Hebrew Month of Sivan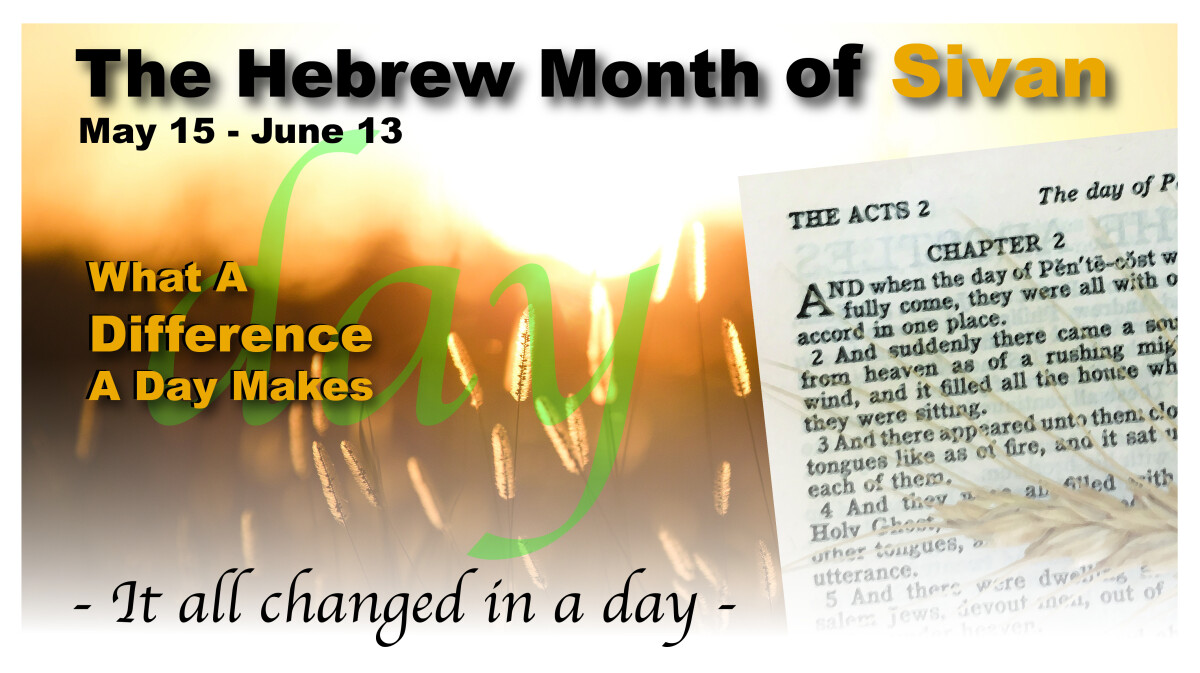 UNDERSTANDING THE SIGNIFICANCE OF THE HEBREW MONTHS:
THE HEBREW MONTH OF SIVAN
MAY 15 – JUNE 13 2018
Because we have a "western world" concept of time, we don't understand the "Biblical" concept of time. We can miss God's timed blessings. Understanding God's calendar is helpful in charting a path of blessing and prosperity. We've said this so many times and it seems appropriate to say it again - Observing the Hebrew (Biblical) calendar has a systematic, intrinsic design to keep us in sync with what God has for us.
Our mind can block prosperity. We can be wrapped up in lack, fear, blame and become powerless to create a life of fullness, wealth and happiness. Limiting beliefs and mind chatter block confidence. The media, fear based news and out of date ideas make up what builds the case for a mainstream poverty mentality. Our western mindset has so complicated our journey that we take paths of thinking that lead us to "just enough" rather than "more than enough." The gate of abundance remains closed.
Sivan is the time to take back our power and solve the problem of lack. We must not give up on our dreams and accept scarcity and struggle. Let's have a spiritual awakening and activate our faith. We are no longer victims, locked up in a belief system doomed for failure. The anointing on this month of Sivan will facilitate the Holy Spirit to reveal limiting beliefs that guard the gate.
This is the month of revelation from the Word. Find scripture that makes reference to the unlimited ability of God and say, "it is written, so let it be."
Check this out, "But you shall remember the Lord thy God; for it is He that gives you power to create wealth, that He may establish His covenant..." Don't obsess with the "how's" of creating wealth. Let that go in order to keep fear, worry and stress from setting up roadblocks on your path of prosperity. When we are free from roadblocks, our faith will manifest.
When we become overly entangled in the material world we think we need more money. This impoverished thinking depletes our energy and financial outlook on life. This creates "poverty attacks" in our minds which eventually manifests in our natural life. That would be a cycle of defeat and lack.
The good news is this pattern is easily shifted. We must refocus our awareness OFF neediness and ON to feelings of gratitude and appreciation. When we put our attention on feelings of thankfulness for what we do have, we start sending positive signals to the brain. That will increase our energy and shift our financial mindset. We are what we think. All that we are arises with our thoughts. For as a man thinks in his heart, so is he. Proverbs 23:7
Thoughts that shift:
I have the power to create wealth.
I am grateful for what I have right now.
I enjoy what I have right now
I live my life as if everything is rigged in my favor.
Here's some things that might help with making it through the gate:
Align with people that are positive.
Don't focus on what's missing.
Develop a Word based mindset.
SIVAN DECLARATIONS:
I declare that it is written, so let it be.
I declare that I am free from worry, fear and lack.
I declare that I am going through the gate of abundance.
I declare that God can do anything.
Understanding God's concept of time, His covenantal blessings and His boundaries for our lives will place us in a position for success. Get this...the month of Sivan is when we pass through the gate of abundance and prosperity.

Three times a year there are special, appointed times to gather and meet with the Lord - Passover, Pentecost and Tabernacles. These feasts form a cycle of life meant to draw us closer to God and place us in His cycle of blessing. Pentecost is the feast that occurs during the Hebrew month of Sivan. This year it is on Sunday, May 20.

PENTECOST: Unlocks and releases God's provision for the NEW season. This is the appointed time for the heavens to open and the provision of God to be poured out on His people. It's at Pentecost we are equipped with the provision we need to prosper and succeed.
The month of Sivan is filled with amazing potential to prosper. That is our prayer for you. May you discover kingdom principles of success, apply them and begin to experience results.
Designed To Prosper,

Sandy Newman and DeeAnn Ward