The Hebrew Month of Sivan 2019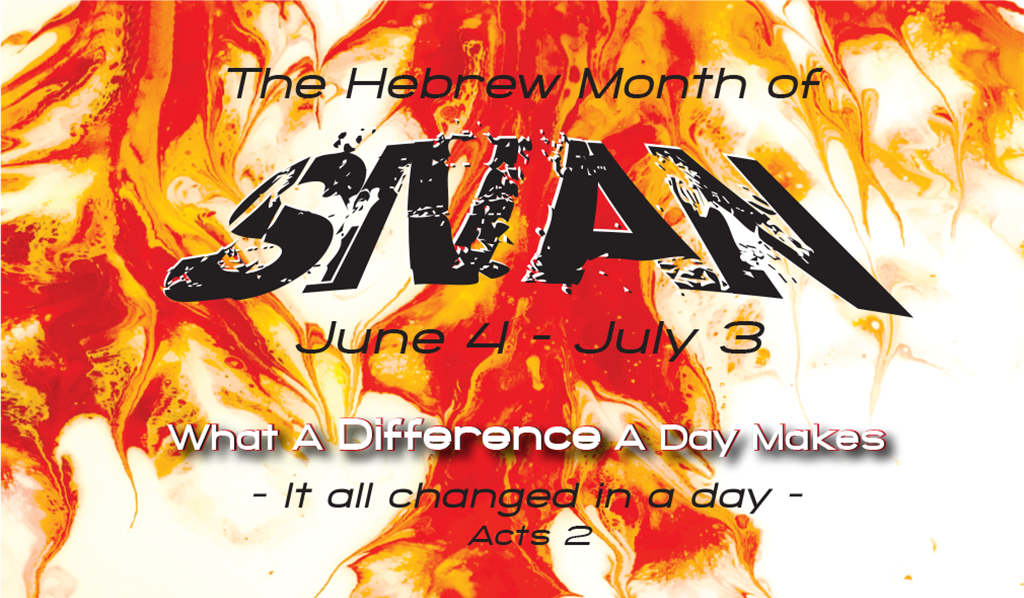 UNDERSTANDING THE SIGNIFICANCE OF THE HEBREW MONTHS:
THE MONTH OF SIVAN
JUNE 4 - JULY 3 2019
Sivan is the third of twelve months of the Hebrew calendar. It is the month of Pentecost. Sivan is associated with the tribe of Zebulun, who had an ability in business and economics. This is the month the two tablets of the law were given at Mt. Sinai. Sivan is the month of Jacob and Esau - the twins. We are at a moment in which what we see and what we say will manifest. Those are the "twins." How we see something and what we say about it will determine the future - help us Jesus!
Let's break down that last paragraph so we can get our faith on this thing.
• The number 3 means whole, complete, perfect. It's a divine stamp of fulfillment on an event or an issue.
• Pentecost is a time of celebrating God's physical provision, God's provision of revelation, God's provision of the Holy Spirit.
• We are privileged to choose our course.
SIVAN IS THE GATE OF ABUNDANCE
Abundance from the Bible is acknowledged to be a blessing from God. Definitions of abundance are: extremely plentiful, over sufficient supply, overflowing fullness. Limiting beliefs guard that gate of abundance and can keep it closed off to you and I. Western mindsets have complicated our journey and have led us to "just enough thinking" and not God's "more than enough thinking."
So here we go! The media, fear based news and out of date ideas make up the invisible enemy that builds the case for a mainstream poverty mentality. We must not accept scarcity and struggle.
WE ARE NOT VICTIMS, LOCKED UP IN A BELIEF SYSTEM
DOOMED FOR FAILURE. WE ARE SONS OF GOD.
The anointing on this month of abundance will facilitate asking the Holy Spirit to reveal personal limiting beliefs. Remember SEE and SAY. See those limiting beliefs guarding the gate. See the unlimited ability of God overcoming every limitation and opening that gate. Open up your mouth and praise God for His super abundant, more than you could ever think or imagine, limitless provision.
The poverty, victim mentality manifests through a pattern of thinking. It can be shifted easily. Refocus awareness OFF neediness and pity and ON to overcoming, love and appreciation. When we put our attention on feelings of thankfulness for what we do have, we send positive based chemicals to the brain. (for real physically) That attention increases our energy and shifts our mindset. We are what we think. For as a man thinks, so is he. Proverbs 23:7
Here's a favorite illustration for seeing and saying and the results.
Twin boys were born into a family with an alcoholic father. One son became an alcoholic and the other son became a successful businessman. When the alcoholic was asked why he became a drunk, he replied, "my father was a drunk." When the businessman was asked why he became successful, he replied, "my father was a drunk." Same background, same upbringing, different results. The brothers chose to see different things, speak about it in different ways and it shaped their future in a dramatic way. Amazing! From the book, "As A Man Thinketh" - a person cannot directly choose his circumstances, but he can choose his thoughts and so indirectly, yet surely, shape his circumstances.
SEE AND SAY:
** I have the power of choice.
** I am grateful for what I have now.
** I ground myself in Biblical truth, not circumstances.
** I am free from worry, fear and stress.
** I live my life as if it's rigged in my favor.
The month of Sivan is filled with potential. Understand that God wants increase, multiplication and prosperity for His people. Poverty has an assignment against you and we break it with the power of the glorified Son, Jesus Christ.
DeeAnn and I appreciate you, bless you, honor you. Many are giving on a monthly basis either by check or online. We so appreciate your giving into what is being built in this territory. Without us serving and blessing the Lord through our giving, ministry could not be accomplished. We can't thank you enough. Please never consider your gifts too small. Remember the widows mite and what Jesus had to say about that. As Jay Swallow always taught us – "girls, it's a matter of the heart."
It's Suddenly Time,


Sandy Newman and DeeAnn Ward