The Hebrew Month of Nissan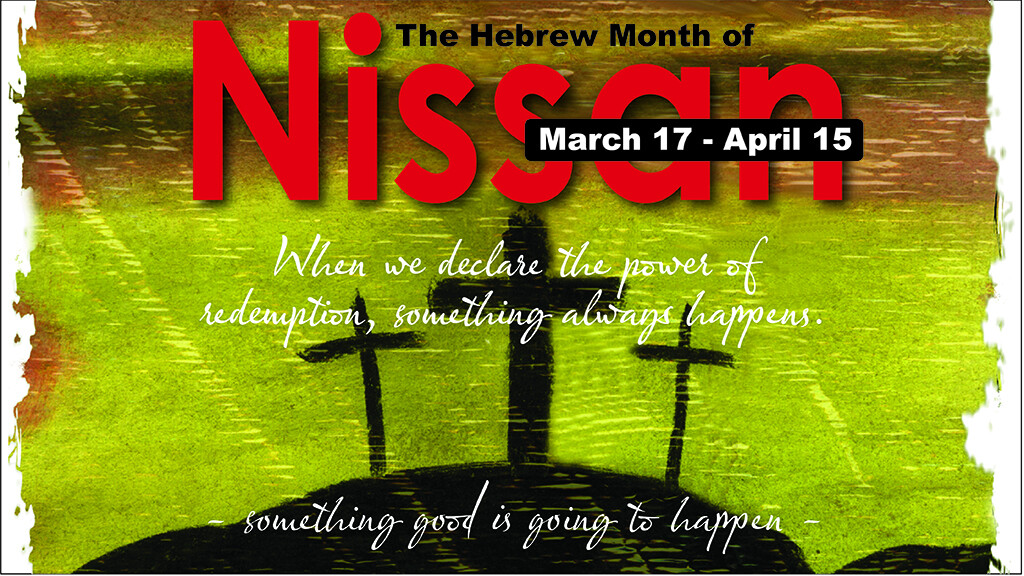 UNDERSTANDING THE SIGNIFICANCE OF THE HEBREW MONTHS:
THE HEBREW MONTH OF NISSAN
MARCH 17 – APRIL 15 2018

Nissan is a month of redemption and the month of Passover. As we gain an understanding of God's timing, we learn to "redeem" time.

Say this: "My blessings are not going to pass me by because I do not know the timing of them."

We know what time it is! It is time for our faith to go to work and see redemption manifest. That unredeemed stuff is about to shift. Nissan is a month of deliverance, restoration, revolution. It is all appropriated into our lives BY FAITH. This is a month where we connect our faith to our speech.

There's the "catch." But it can be as simple as speaking our thankfulness to God for our deliverance before we see it. Saying…then seeing.

• When I speak, my faith is heard.
• My words have the power to impact reality.
• The first words I speak in the morning set my day.
• My words have the capacity to bring change.

A man of God gave a word about "redemptive" prophesy manifesting this year of 5778 or 2018. It falls into the category of redemptive when it has to do with our destiny, our purpose or the purpose of a territory, business, ministry, etc. So when we talk about redemptive prophesy in the month of redemption, we release faith in a cycle of redemption as in no other timeframe. Wow.

That's a realm of covenant blessing that we must become aware of and walk in. Knowing about this incredible timing issue with God puts us in position for His blessings to overtake us.
Jesus didn't die for us to live sick and tired, almost free, just getting by and unhappy. We can break out of that with knowing and applying faith to the principles found each month in God's calendar.


Passover is Nissan 15. It is a celebration designed by God. It's given to increase our faith and prepare us to enter into the fullness of His blessing. When we remember God's work of redemption and declare the power of redemption in lives, something always happens. Put your faith on that…something always happens.

In fact, in our new Hebrew calendar, for April, we have a print of a chalk drawing we discovered behind a wall that was being demoed in our first office space. It was like it was preserved for us. It's a drawing of the 3 crosses when Jesus was crucified. Across the top of that amazing drawing we put, "When we declare the power of redemption, something always happens."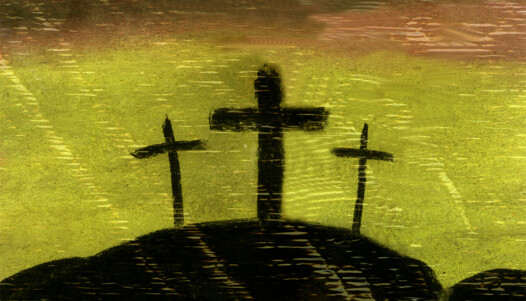 We can't wait to hear all the "something always happens" testimonies. DeeAnn and I send these Nissan declarations to you:
• You walk in God's cycle of blessing.
• You step into a triumphant future.
• You receive new provision.
• You take out the Goliath between you and redemption.

As always, we are grateful and thankful for you. Your kind notes of appreciation bless us beyond words. Your generosity in giving certainly makes a difference in what we can do. Your prayers seem to take us past our own strength and courage. The more we move in strategic intercession, the more we will begin to see the intervention of God to accomplish His purposes.
Passing Over/Going Where We Have Not Gone,
Sandy Newman and DeeAnn Ward