The Hebrew Month of Kislev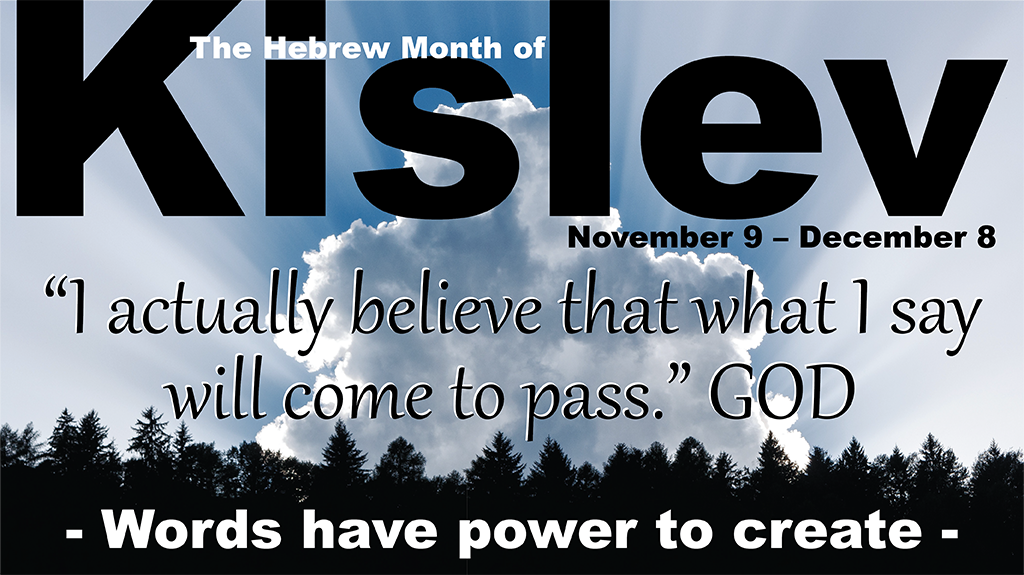 UNDERSTANDING THE SIGNIFICANCE OF THE HEBREW MONTHS
THE HEBREW MONTH OF KISLEV
NOVEMBER 9 – DECEMBER 8 2018
Each Hebrew month has prophetic direction that allows us to live in the timing of God. When we understand His value of "time", we receive the tools to build a new model for our lives. As simple as – wake up every day happy, expectant that the day will be filled with good stuff, knowing we will be at the right place at the right time.

Have you noticed lately that there's a fight involved in seeing the will of God come to pass? We've prayed, made declarations, believed God, stewarded the word of the Lord. Nothing…no major changes yet, but wait----check it out.

The first month of 5779 was Tishrei. The gate of new beginnings. It implies that God will do a makeover. Everything that needs to turn towards righteousness, turns NOW. We step out of old situations and circumstances. We take charge of our life. After all, we plan to be happy, prosperous, healthy and fulfilled.

The second month of 5779 was Cheshvan. The gate of authority, anointing and advancement. Because the anointing destroys the yoke of bondage, we can exercise our God given authority and advance in what God has called us to do.

The third month of 5779 is Kislev. The gate of light and revelation.

So, we stepped out of the old identity and into the new. We're in charge – Tishrei.
We are smeared with the anointing oil, which is the power of God. It never diminishes – Cheshvan.

Now we enter Kislev, the month of the turning point. The month when the shift we have talked about…happens. We stop the enemy with our words.
WORDS HAVE POWER.
Matthew 21:22, And ALL things, whatsoever you call for in prayer, believing, you shall receive.

In the name of Jesus
I decree and declare
that Your will come to pass in my life
and in the life of my family.

Every ill-spoken word,
Every word spoken in ignorance or frustration
that would have a negative impact in my life,
I decree and declare those ill-spoken words
shall not come to pass.
They are cut off at the root.

I now establish Your will to come to pass.
I say it is super-imposed over the will of the enemy.
I cancel the potential of words that bring death to the plan of God for my life.
I say, Your will be done in earth as it is in heaven.
Amen. Enjoy Kislev.

May the cycles of blessing, revelation and light continue until you are overwhelmed with the presence of God that goes beyond what you can think or even imagine. Our thanksgiving and gratitude go out to you again for your faithfulness to give, pray, encourage and align. We are very aware of how important it is to walk together as we accomplish His purposes for our respective spheres of influence.

Happy Thanksgiving,

Sandy Newman and DeeAnn Ward