The Hebrew Month of Cheshvan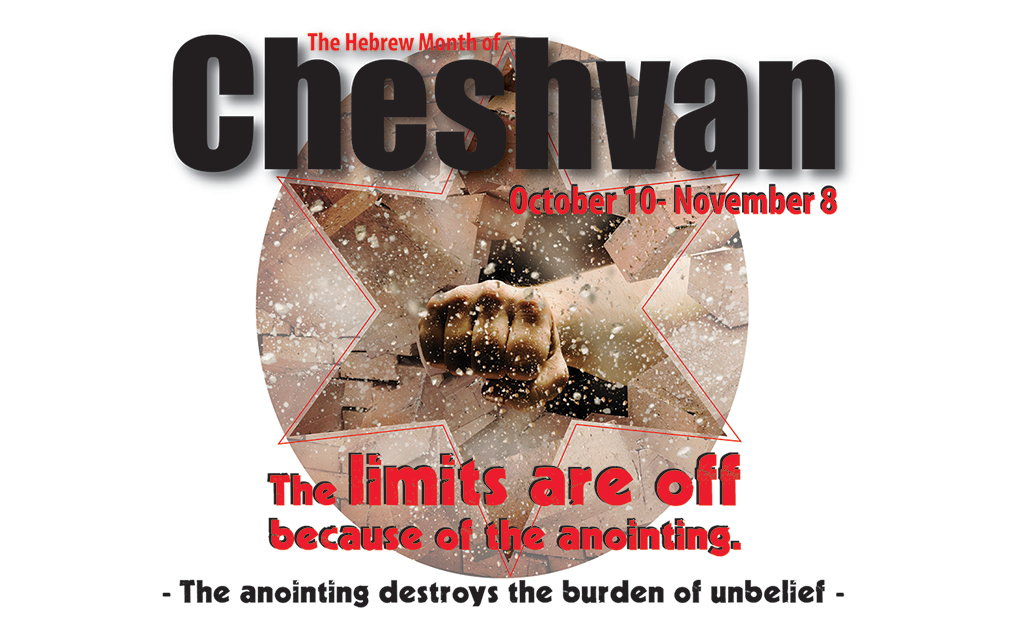 UNDERSTANDING THE SIGNIFICANCE OF THE HEBREW MONTHS
THE MONTH OF CHESHVAN - 5779
OCTOBER 10 – NOVEMBER 8 2018

God works through cycles. He uses cycles to bring us to new levels of His blessing and provision. God wants to lock us into cycles of blessing, growth and increase. The Hebrew months are cyclical. As we move through the course of the year, we get positioned to receive maximum favor and grace. It's like a spiral staircase and as we "cycle up" we move forward toward our destiny in a specific timeframe.

Cheshvan is the month of the anointing. Although it's hard to define, the anointing of the Holy Spirit makes all the difference in our lives. Here's why. There is a place in the spirit realm where every believer wants to go and when they get to that place, they don't want to leave. That place of "His presence" is the anointing.

Men and women of God have operated in the anointing throughout history. Check this out: While being eaten by lions, they sang; while being blindfolded and waiting for the shots to kill them, they prayed in peace; as Stephen was being stoned, he looked up to heaven and asked God to not lay this sin to their charge.
We have not faced those things – thank You Jesus – but how does the anointing function?

The anointing is the perpetual power of God that produces joy, passion, confidence, boldness and authority. It releases righteous indignation. It is the power to preach, sing, witness, testify, forgive and do spiritual warfare. The anointing will come to get us through anything, good or bad.
ASK FOR IT!

Everyone has the capacity to be anointed. God is no respecter of persons. The anointing is for every believer. Here's what we need to be aware of. The enemy will come and say, "you aren't good enough to have the anointing in your life." The devil is a liar. To come against his lies, it's key to remember the anointing that comes on us is His anointing. It is the anointing of the Holy Spirit. It is a gift that comes from Him. The anointing belongs to God. ASK FOR IT!

His anointing destroys the yoke of disease, poverty and bondage. God's anointing releases healings, deliverances, miracles, signs and wonders. But this same anointing helps us live out our everyday life as one of the called out, chosen and appointed people of God. ASK FOR IT!

How do we walk each day in this anointing? Generally speaking, the anointing is the power of God to accomplish His purpose, regardless of what it is. If His purpose includes going to work, get anointed to do it. If His purpose includes washing the car, get anointed to do it. It's available. Whatever is on our list of stuff to do, God wants us to know, we are anointed for it. ASK FOR IT!

Anointing: furnishes what is required to get the job done
Anointing: activates untapped talents in us
Anointing: commissions a new authority for the task
Anointing: empowers to move in a higher realm of purpose

CHESHVAN DECLARATIONS:
• I declare I am cycling up
• I declare I am blessed, protected and empowered
• I declare I can get it done
• I declare I am anointed

DeeAnn and I say you are anointed to find victory in every situation you encounter. We say this is the month of the breaker anointing. We say the anointing positions you to overcome every limitation. We say, you are anointed! ASK FOR IT!

Thank you for your faithfulness to walk with us in prayer, encouragement, finances and the joy of testimonies. Stay strong, stay focused and declare His anointing in and on your life.

Anointed for triumph,



Sandy Newman and DeeAnn Ward