The Hebrew Month of Av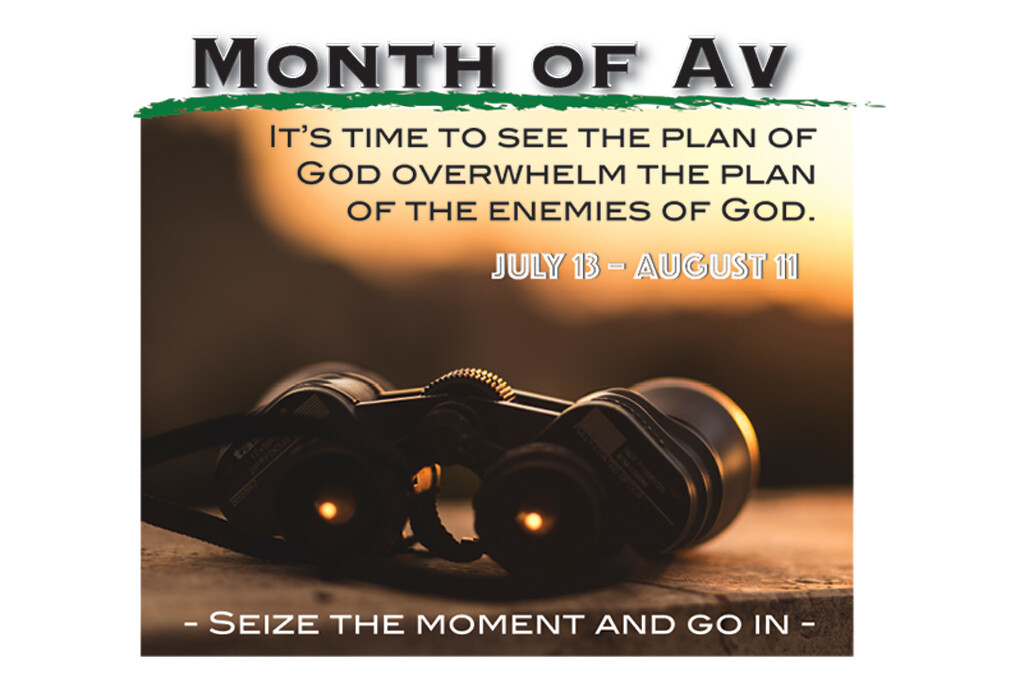 UNDERSTANDING THE SIGNIFICANCE OF THE HEBREW MONTHS
THE MONTH OF AV
JULY 13 – AUGUST 11 2018
We need to be at the right place at the right time. We want to be informed and not taken by surprise. Seasons are on the calendar so we will be prepared. In other words, the calendar speaks to us, it's prophetic. We know what's ahead, what to expect, what to look for and what to celebrate.

The early church observed the Biblical calendar until Constantine took the church and the world off God's calendar and brought about the Roman or the Gregorian calendar. He got the Jews and the rest of the world out of sync with the timing of God. Pagan gods and idols were honored with this calendar. There's no time for a complete teaching on all this involves, but we'll say this: Constantine did not want the Jews to celebrate and observe the feasts of the Lord. The observation of the feasts brought them into alignment with the authority, blessing, prosperity and favor of God.

Because we have an understanding of the significance of God's timing and the blessings that are built into it, we say we are entering this new Hebrew month fully aware that this could be a "game changer" month for us. We are in a "moment." We are seizing the moment to see the plan of God overwhelm the plan of the enemies of God. We release our faith to believe into that.

The Hebrew month we are in is AV. God is bringing us into an opportunity to steward the spheres and territories He has assigned us. We are gaining insight into how to shift to an apostolic dimension of decree. That dimension will not be reached if we have an agreement with something other than what God has said.

Historically AV was a low point month. The low point came for Israel when they chose the voice of unbelief rather than the voice of faith when they were at the border of the promised land. Traditionally this is a month of sorrow and fear because it's associated with a curse. The curse began with unbelief and was held in place through refusal to exercise faith to enter in. Unbelief is not, not believing. Unbelief is believing something other than what God has said. Unbelief is accompanied by a curse.
Fear and unbelief create an identity crisis which can hold us back from the boundaries of our covenant blessing. That's a curse. Jesus redeemed us from the curse, Galatians 3. He was made a curse for us that we might receive the promise. We must activate what Jesus has already done for us by faith.

Let's do this:
"We repent and renounce the sin of unbelief that caused the curse to come. We mix our faith with the promises of God and who we are in Him."

The month of AV has the original potential to step into the promise of God with faith that is beyond reason. That potential is still available for this to be the "high point" month for our faith and prosperity.

Let's say what Caleb said when faced with a nation full of unbelief:
"Let us go up at once and possess it. For we are well able to overcome it."

AV Declarations:
* I am well able to overcome…anything
* I will enter into God's promises
* I believe what God has spoken and what He is speaking

DeeAnn and I say this over you today:
You are bold and strong. Your faith is ready to take you beyond. You are on your way to your promise.

Thank you for your continued financial support and prayer support. Please send testimonies of crossing over, going beyond in your faith and reaching that place of promise.

Well Able,



Sandy Newman & DeeAnn Ward