The Hebrew Month of Av 2021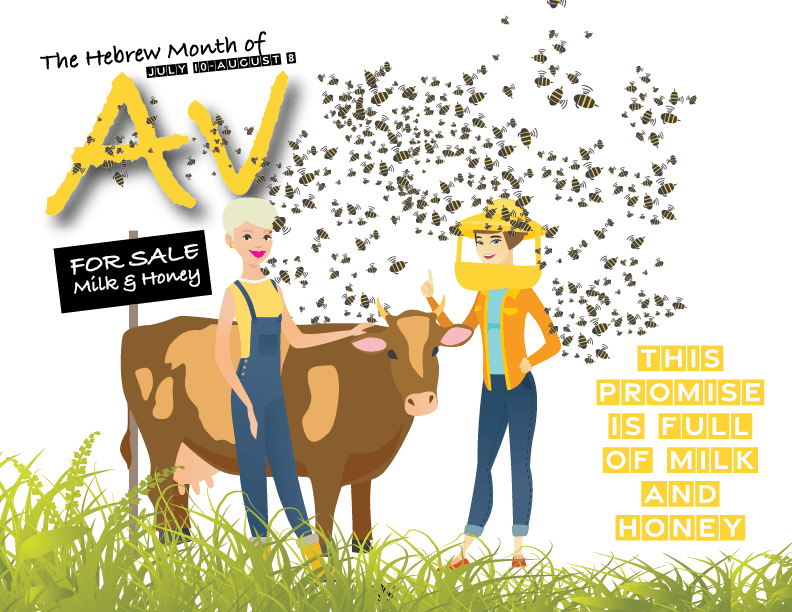 THE HEBREW MONTH OF AV
JULY 10 - AUGUST 8 2021
Numbers 13:27
And they told Moses, we came to the land where you sent us and surely it flows with milk and honey...nevertheless...
The "nevertheless" kept them out of business. God said this promise is full of milk and honey and prosperity, BUT you will have to contend and rule over what would deny your covenant promises. In other words, put on your bee hat--go harvest the honey--grab your milk bucket and milk those cows. And by-the-way concerning the giants - their defence has departed from them and they'll be easy to deal with. The leaders, Joshua and Caleb had to wait the full 40 years before they could put up their for sale sign and enjoy the fruit of the promised land.
There was a job to do and Caleb and Joshua made it clear what needed to be done and made it clear that all would overcome. Everybody was asked to go into the land and possess it for they were well able to overcome anything. Everybody was sure that Somebody would do it. Anybody could have done it, but Nobody did it. It really was Everybody's job. Everybody thought that Anybody would do it. Nobody realized that Everybody wouldn't do it. Everybody blamed Somebody and Nobody did the job that Anybody could have done in the first place...
Let's get all that redeemed! Historically AV was a "low point" month. God meant it to be a "high point" month. The high point would have been that Everybody would have stepped into the land of promise, received strategy and began their life of freedom, joy and prosperity.
Redemption: Jesus gave us the right to challenge anything that opposes His word. He gave us the right to resist principalities and powers. He gave us the right to decree a thing and see it established. He gave us the right to command, influence and govern what He has called us to rule over.
Everybody can do this thing! Everybody can step into God's promises! Everybody can exercise faith! We are standing on the edge of God being glorified in unprecedented ways!
Acts 4 is huge right now:
"And now Lord, observe their threats and grant to Your bond servants full freedom to declare Your message fearlessly while You stretch out Your hand to perform signs and wonders through the power of the name of Jesus. And when they had prayed, the place was shaken and they were all filled with the Holy Spirit and they continued to speak the Word of God with freedom and boldness and courage."
Everybody Declare:
• I stand on the edge and step in.
• I have faith to break out and enter.
• I do not waver against "nevertheless."
• I enjoy "milk and honey."
DeeAnn and I thank God for Everybody! It gives us strength knowing we are connected to Somebody who's made up their mind to mix faith with the sure promises of God. This is certainly for Anybody and our prayer is that Nobody will miss their border crossing.
Thank you for your faithfulness to pray. Thank you for sowing into the heart of Destiny which is to serve God, man and the land. Thank you for all your kind notes of encouragement.
Overcoming Anything,



Sandy Newman and DeeAnn Ward