The Hebrew Month of Av 2019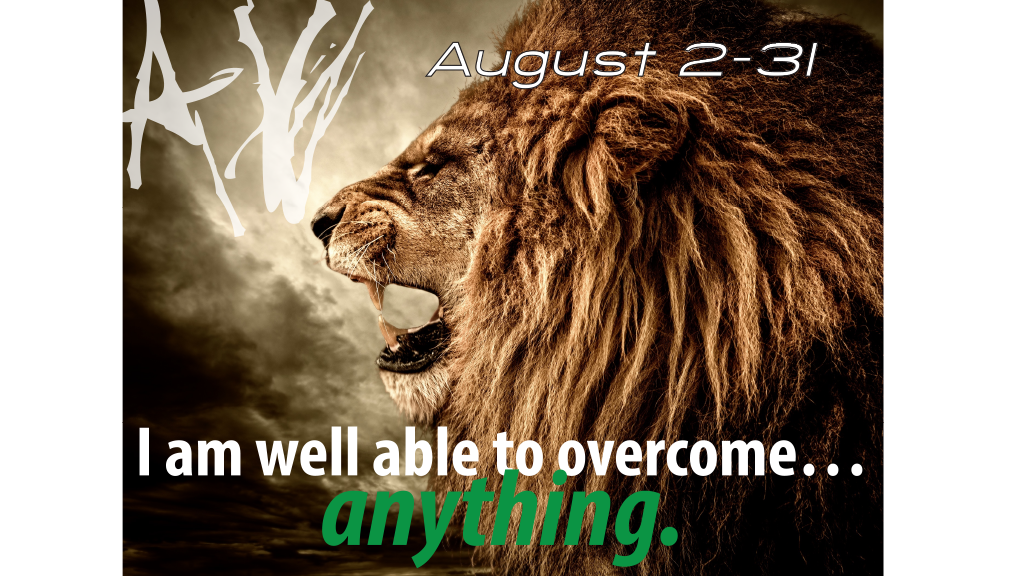 The Hebrew month we are in right now is called AV. On our western calendar the dates are August 2-August 31.
AV highlights a very important "God" principle. This month God defines for us the relationship between identity and destiny. Let me say that again: our destiny is directly determined by how we see ourselves, our identity! We need revelation into the truth of who we are and most importantly, who He is.
The month of AV has been called the "low point" month. Here's why - then we'll shift!
The low point came for Israel when they chose the voice of unbelief rather than the voice of faith when they were at the border of the promised land. Faith was nowhere, fear set in and took over. Ten of the spies lost their identity, saw themselves as grasshoppers and delayed everyone's God given inheritance and destiny.
Two of the 12 spies had the proper response. Joshua and Caleb's response to the others' doubt and fear was, DO NOT FEAR THE PEOPLE OF THE LAND, THEY ARE BREAD FOR US AND THEIR DEFENSE HAS DEPARTED FROM THEM. Caleb's response to their doubt and fear was, WE ARE WELL ABLE TO OVERCOME. They had faith in the God who had promised the land.
The month of AV was and still is, God's time to keep His promises.
What we need to do now is believe what Jesus has already done for us.
We are placing a demand on our faith to say this - we mix our faith with the promises of God and who we are in Him.
Galatians 3:13-14:
Christ redeemed us from the curse of the law, being made a curse for us, for it is written, cursed is everyone that hangs on a tree.
So here's what we do - repent and renounce the sin of unbelief that caused the curse to come. We mix our faith with the promise of God and who we are in Him.
Philippians 4:13:
I can do ALL things through Christ which strengthens me.
II Corinthians 2:14:
Now thanks be unto God which ALWAYS causes us to triumph in Christ...
Numbers 13:30:
...we are well able to overcome.
* DeeAnn and I say you are bold and very strong. We say your faith is ready to break you out of any intimidating circumstances. You are not a grasshopper!!
* We say you are stepping into your promised land, full of courage, faith, joy and love.
Thank you again for your prayers, your financial gifts and your notes of encouragement.
Hope to see you in Wichita at 'Time To Plow' with Chuck and Dutch. We are at full capacity and registration is closed. If you didn't register, you can still jump on our facebook and hear the word of the Lord. You'll find us at https://www.facebook.com/GovernFromTheHeart/. CD's or MP3's will be available. We'll let you know when they're ready.
Well Able,



Sandy Newman and DeeAnn Ward