Hit The Mark In The Dark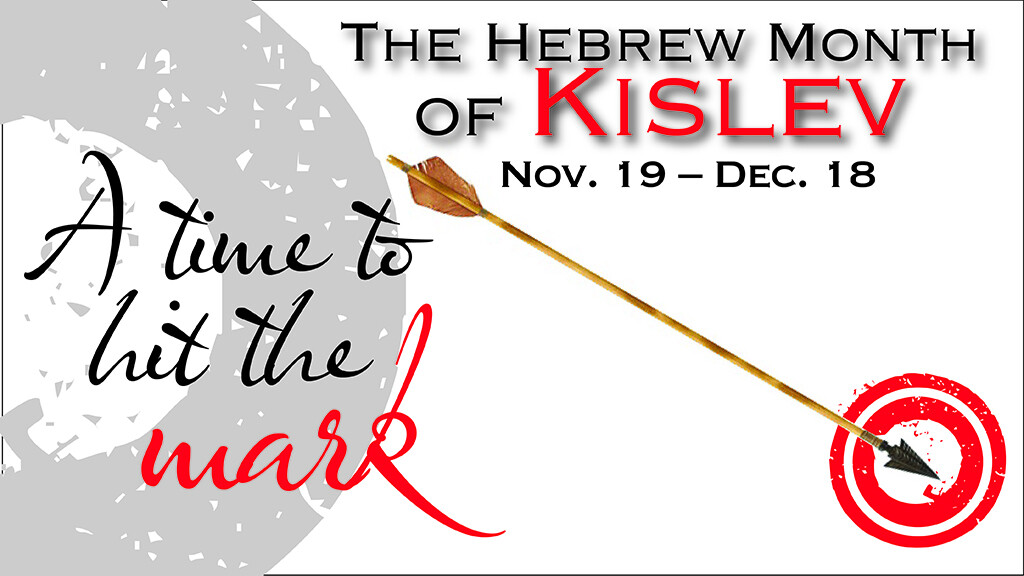 UNDERSTANDING THE SIGNIFICANCE OF THE HEBREW MONTHS:
THE MONTH OF KISLEV
NOVEMBER 19 – DECEMBER 18 2017

Every year when I think about the characteristics of the month of Kislev, I remember what God said years ago.
"Sandy, I actually believe that what I say will come to pass." Profound!

Our faith will activate the promises associated with this month and the year of 5778.

I actually believe:
• My words will address darkness
• I will hit the mark in the dark
• I am equipped to overcome every obstacle
• I will be justified by my words

We do not have to see something to say something. That's Kislev. Genesis 1:1-3, "And the earth was without form and void and darkness was on the face of the deep and the spirit of God moved on the face of the water. And God said, let there be light and there was light."

Darkness has a destiny and that destiny is to be transformed to light…with words. In the presence of darkness, God did not address the darkness. He addressed the light. The temptation is to focus on the darkness. It seems that whatever we focus on, hangs on. Get it.

Matthew 21:22, "And all things, whatsoever you ask for in prayer, believing, you shall receive." Change starts with what we believe and what we say. That directive is all throughout the word.
This month we give Holy Spirit control of our life by following God's directives. Through our relationship with Jesus we enter the kingdom of light which is a realm that opens a door of opportunity. 5778 is the year of the door or the gate.
KISLEV DECLARATIONS:
• I govern what comes out of my mouth
• I am wired for success
• I call those things that be not as though they are
The prophetic revelation in Kislev could very well change everything. Well…it did for God in Genesis 1. DeeAnn and I are blessed to have you in our lives. We make this decree over you and everything that concerns you.

"We declare every ill-spoken word, spoken in ignorance or frustration, will not come to pass. We cancel the potential of words that bring death to the plan of God in your life. We cut them off at the root. We say the will of God trumps the will of the enemy."

May the cycles of blessing overtake you.
And There Was Light,


Sandy Newman and DeeAnn Ward