HEBREW MONTH OF CHESHVAN OCTOBER 7 - NOVEMBER 4 2021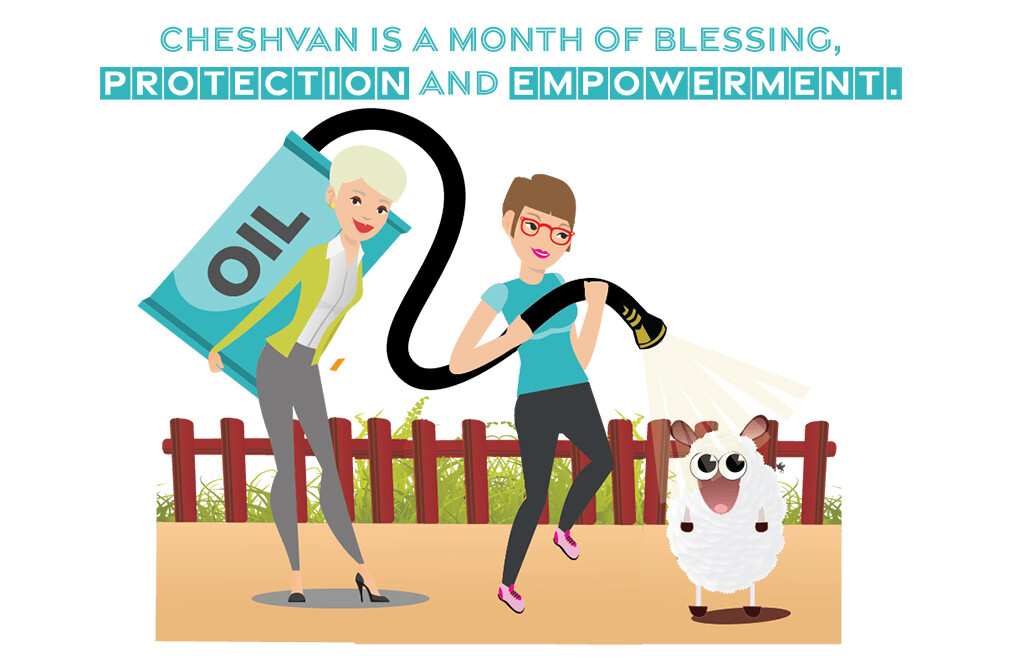 The Hebrew months are like cycles. As we move through the year, we get positioned to receive blessings. It's like a spiral staircase and as we "cycle up" we move forward into all the Lord has for us.
Cheshvan is associated with the anointing. Although it's hard to specifically define, the anointing of the Holy Spirit makes all the difference in our lives.
The origin of the anointing was from a practice of shepherds. Lice and other insects would often get into the wool of sheep and when they got near the sheep's head, they would burrow into the sheep's ears and eventually kill them. The ancient shepherds poured oil on the sheep's head. This made the wool slippery, making it impossible for insects to get near the sheep's ears - the insects would slide off. From this, anointing became symbolic of blessing, protection and empowerment.
Cheshvan is a month of blessing, protection and empowerment.
During this time-frame there are supply realms all around us. There are creative ideas available. There is grace to do what could not be done earlier. As soon as grace is received in a situation, hidden supply is opened up.
Hebrews 4:16: Let us therefore come boldly to the throne of grace that we may obtain mercy and find grace to help in time of need.
Anointing: furnishes what is needed (whatever we need to do)
Anointing: activates untapped talents in us
Anointing: commissions new authority to decree a thing and it be established
Anointing: helps us do "normal" stuff
So, who gets this anointing?
Isaiah 10:24: Therefore, oh My people that dwell in Zion, do not fear the Assyrians...
Isaiah 10:27: And it shall come to pass in that day that his burden shall be taken away from off your shoulder and his yoke from off your neck and the yoke shall be destroyed because of the anointing.
Who gets it? Isaiah seems to indicate the ones who receive the anointing are - My people, that dwell in Zion and do not fear Assyrians. My people are the ecclesia, the church, the sons of God who are called together to worship, be equipped and watch over their region. Assyria means - certain failure. The anointing takes away the burden and destroys the yoke of the fear of failure from the worshipping church.
Cheshvan Declarations:
• I am cycling up.
• I am blessed, protected and empowered.
• I am anointed.
Thank you so much for your support. Your financial gifts, prayer and encouragement strengthen us to say yes to all the opportunities that come.
Stay strong, stay focused and declare your provision.
Anointed For Everything...



Sandy Newman and DeeAnn Ward
---
3 Ways to Give
1. Mail: Destiny Ministries, PO Box 1081, Arkansas City, KS 67005
2. Online: www.DestinyMinistries.com/donate
3. On your phone with Text-to-Give:
1. Text the amount you would like to give to (316) 333-2826. (Example $50 or 50 either will work)
2. If you are a first time, text-giving donor you will be prompted to visit a secure URL.
3. Once you click the registration link, you will enter your credit or debit card information.
4. At this point your donation will process.