All I Need Is A R.A.F.T.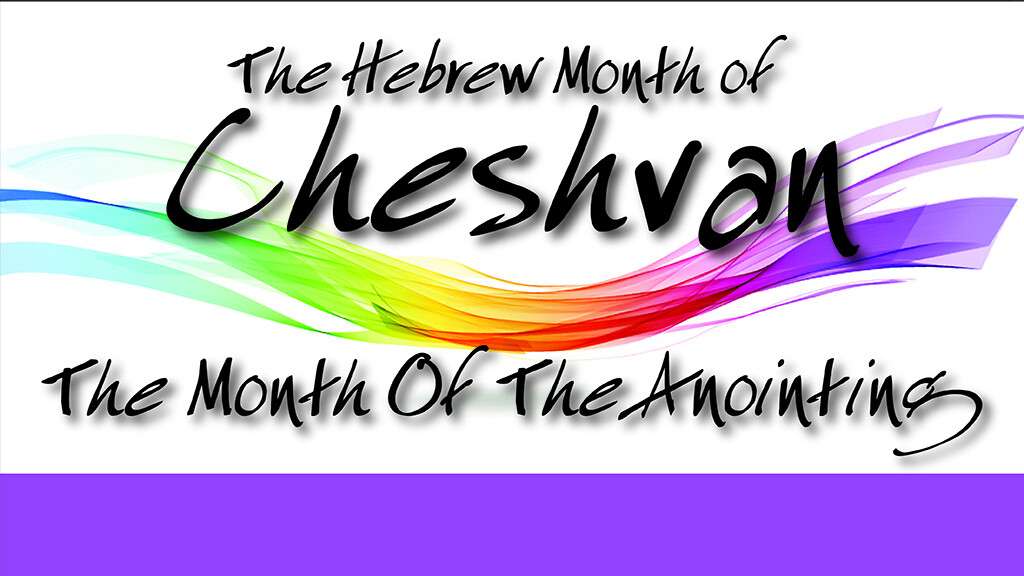 UNDERSTANDING THE SIGNIFICANCE OF THE HEBREW MONTHS
THE MONTH OF CHESHVAN
OCTOBER 21 – NOVEMBER 18, 2017

The Biblical calendar is significant for us every month. In the course of the year, God wants to position us to receive blessing, boldness and strength. No doubt, we are in a war. Heaven's atmosphere is shifting with an alignment of heaven and earth. One way we participate in that shift is through the anointing of our words when we say, "Thy kingdom COME, Thy will BE DONE, on EARTH as it IS IN HEAVEN." Everything we say goes out into the atmosphere. DeeAnn and I are convinced that as we gain understanding and give voice to revelation found in God's calendar, we are seeding the heavens with triumph and glory.

CHESHVAN IS THE MONTH OF THE ANOINTING.
* There is an individual anointing. This anointing separates a person for the purposes of God – no matter the sphere His purposes take you into. The anointing enables a person to be successful, whatever their path of life.

* There is a corporate anointing. The strength of the corporate anointing empowers a group to move into a higher realm of spheres of influence. Whatever the purpose of the group is – the anointing will take the whole to a higher level of authority.

We have entered into a key moment in history. That "moment" is the Hebrew year of 5778/Ayin Chet.
Chet is the Hebrew word for the number 8. We'll be writing about this all during the year, but to serve this "moment," check it out. The number 8 alludes to the departure from the natural world and entry into the supernatural world. In other words, 8 transcends limitations. Shout, the limits are off. We have a new beginning!!
When the limits are off we can make these bold, anointed declarations:
• This is the month I put my foot on the head of the enemy who has been trying to defeat me.
• This is the month to cut off what is wearing me down.
• This is the month to let go of mistakes and move on.
• This is the month to believe the angels are being sent to help me.
• This is the month the anointing takes away the burden and destroys the yoke of bondage.

DeeAnn and I say you are anointed to face, deal with and find victory in every situation.

We always want to express our thanks to those who intercede, to those who stand as watchmen, to those who give financially and to those who encourage.
May the breaker anointing come in a huge way this month.

Anointed For Breakthrough,

Sandy Newman and DeeAnn Ward