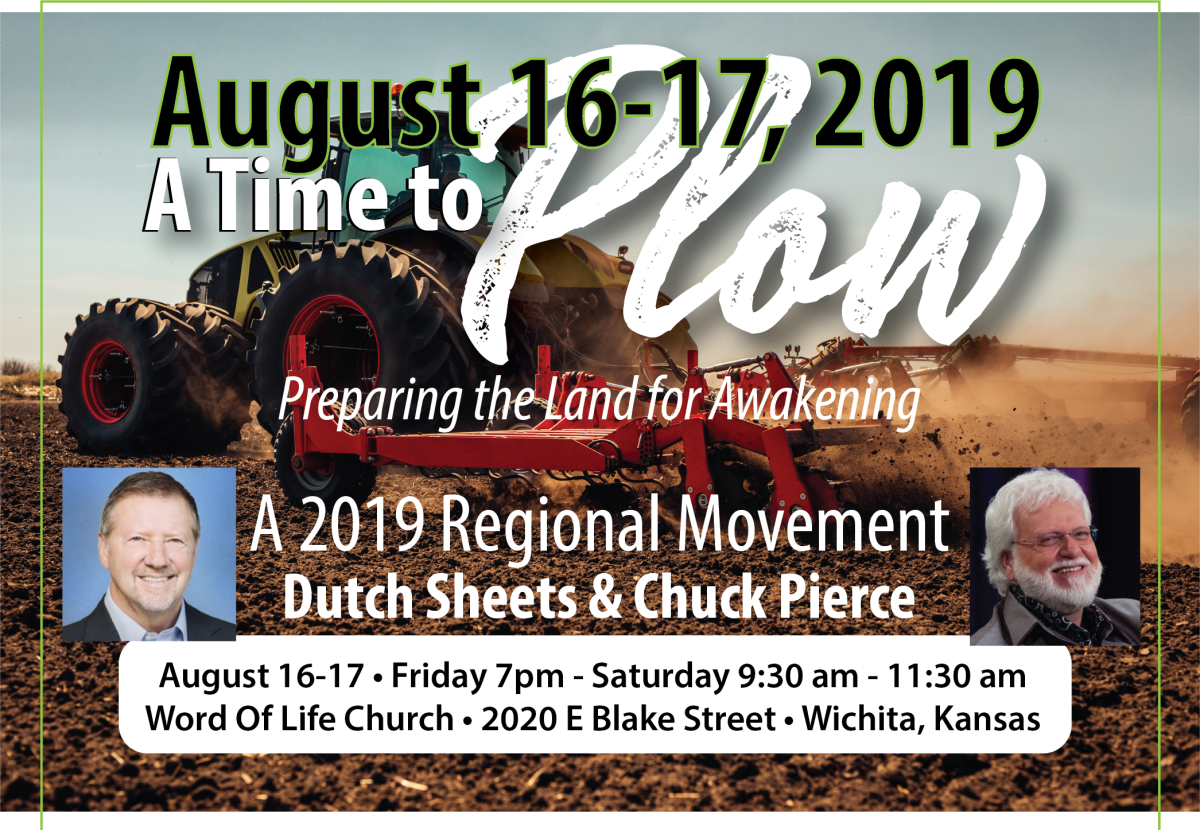 Friday, August 16, 2019, 7:00 PM - Saturday, August 17, 2019, 9:30 AM
We are at Full Capacity but you can join us on Facebook Live
https://www.facebook.com/GovernFromTheHeart/

This event will be archived for 2 weeks following the conference. CDs or MP3s will be available.
Preparing the Land for Awakening
A 2019 Regional Movement
Dutch Sheets & Chuck Pierce
In January the Lord spoke to Chuck and said this about the year of 2019 - It's Time To Plow. Regional meetings are being scheduled. We are hosting one in Wichita, Kansas. The word concerning these "Plow" meetings:
• Prepare the land for awakening.
• Restore God's creative power.
• Activate the anointing to birth the future.

At Passover Dutch shared this dream:
In a dream Dutch was given a skeleton key. Chuck prophesied and a keyhole appeared in the sky. Dutch turned the key and a doorway opened in the heavens. A voice spoke, "welcome into an ancient pathway reserved for this time, here are the resources needed to complete the turning of the nation."
Chuck prophesied - "at this ancient path, the keyhole formed. There is an opening and I am sending down 7 cylinders and 7 arrows of fire into America. They will penetrate the earth and reconnect My path of triumph across this land. Dutch, you will go back to the first place where covenant was made. The re-covenant plan for the land will be released. Get ready for the first place of covenant and the other 6 key places of covenant alignment in this land. One is in Kansas, I don't understand it, I see it. One is in South Dakota, I see it. The Lord says it will be an historical unlocking. There is coming a new path that is ancient and has never been unlocked before."
Please plan on joining us to PLOW AND UNLOCK THE REGION.
Destiny Ministries
Sandy Newman & DeeAnn Ward
Registration is now closed.
The conference will be on Facebook Live.
https://www.facebook.com/GovernFromTheHeart/
Hotel Information:
Holiday Inn Express Wichita South
4860 South Laura Street
Wichita, Kansas 67216
(316) 558-8001
Best Western Governors Inn & Suites
4742 S Emporia St
Wichita, KS 67216
(316) 522-0775