The Hebrew Month of Tammuz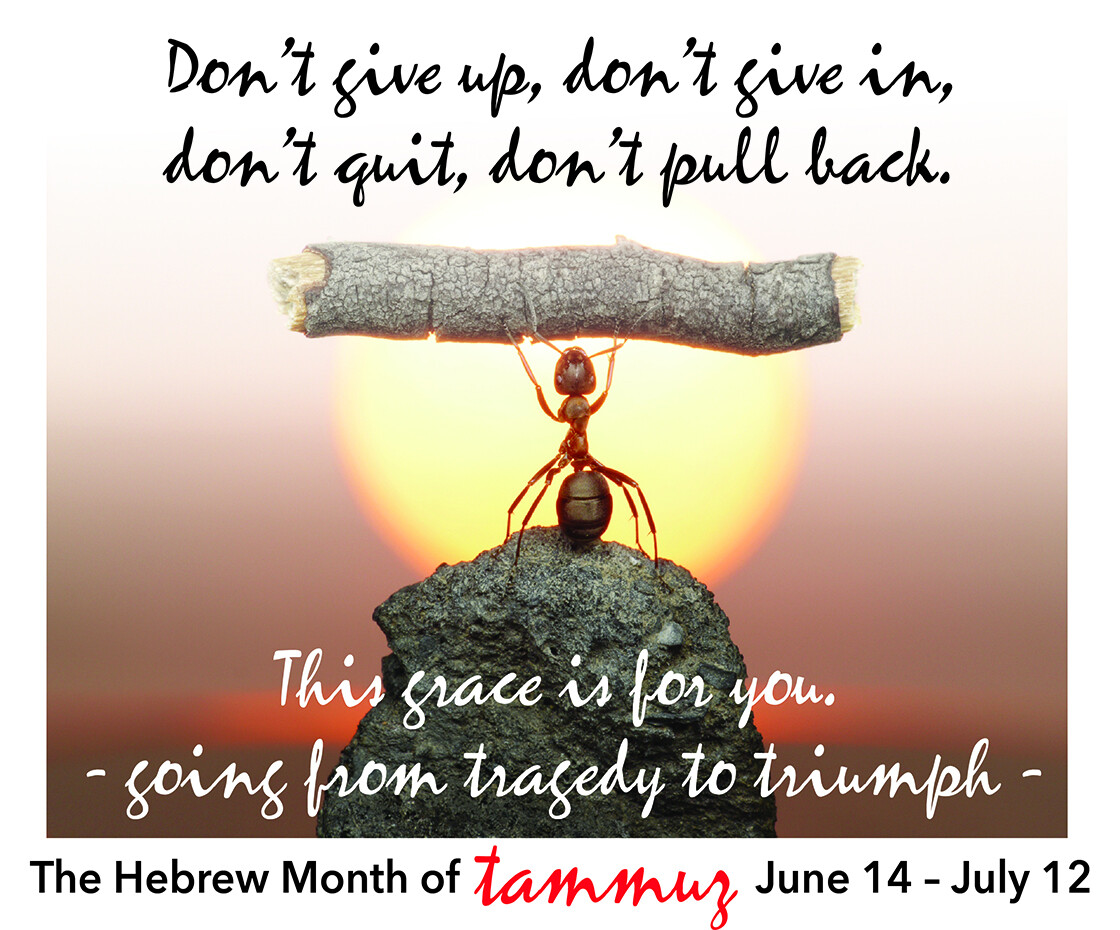 UNDERSTANDING THE SIGNIFICANCE OF THE HEBREW MONTHS
THE MONTH OF TAMMUZ
JUNE 14 – JULY 12 2018

This month is packed with incredible stuff! We couldn't find just one subject to focus on, so be ready to jump from one thing to the next.

Historically for Israel this is a month of tragedies. In fact, it is the "door" to three dangerous months. Moses was on Mount Sinai receiving instruction from God. When he came down to deliver the word of the Lord to the nation, he found them worshipping a golden calf. That idol worship was birthed out of delay. That's it! Moses was just taking too long in their opinion. Of all the things they could've focused on. Moses was on the mount for 40 days and one commentary said on the 39th day, the rebellion began. What! They couldn't wait one more day!

Our acronym for WAIT is "worship always in transition." They had so much to worship God and be thankful for. And they couldn't do it for another 24 hours.

Here's the deal. Delay can birth fear and loss of identity. It can lead to self-pity and identifying with a life of tragedy. It can sound like this: "I do all the right things and nothing good ever happens. I get over one bad thing and another occurs. My dream will never come to pass." That becomes a cycle of fear, self-pity and sabotage. This is the month we break out of that cycle. This is the month we break through that culture of tragedy into redemption, restoration and transformation.

Here's another deal. When we "worship right"…which means no golden calves…even in the face of incredible odds, it can all be transformed. We are in a season with the potential for the highest relational reality with the Lord. Luke 10:19 sums up the promise of God to deal with the power of the enemy, delays and tragedies.
"Behold, I give you power to tread on serpents and scorpions and over all the power of the enemy and nothing shall harm you."
An unnamed rabbi stated, "the prophets said there would be bad times and good times and it would lead to complete redemption and transformation.
I have seen the bad, NOW I am CERTAIN the good will come to pass."

Listen, we've got to train ourselves to see things in a positive light. We must develop an ability to see beyond what we see in the natural.

DeeAnn and I are laying a marker in the spirit, in your life today. This marker says, you are commissioned to GO BEYOND.
*Beyond captivity
*Beyond just enough
*Beyond grief
*Beyond hope deferred
*Beyond fear
*Beyond confusion
*Beyond the old

So we say, we are a tribe of "go beyonders."
This year of 5778 is the year of the gates. These words are at the top of one of those gates, Tammuz - Go Beyond.

Going Through The Gate,



Sandy Newman and DeeAnn Ward