HEBREW MONTH OF SIVAN - MAY 21 - JUNE 19 2023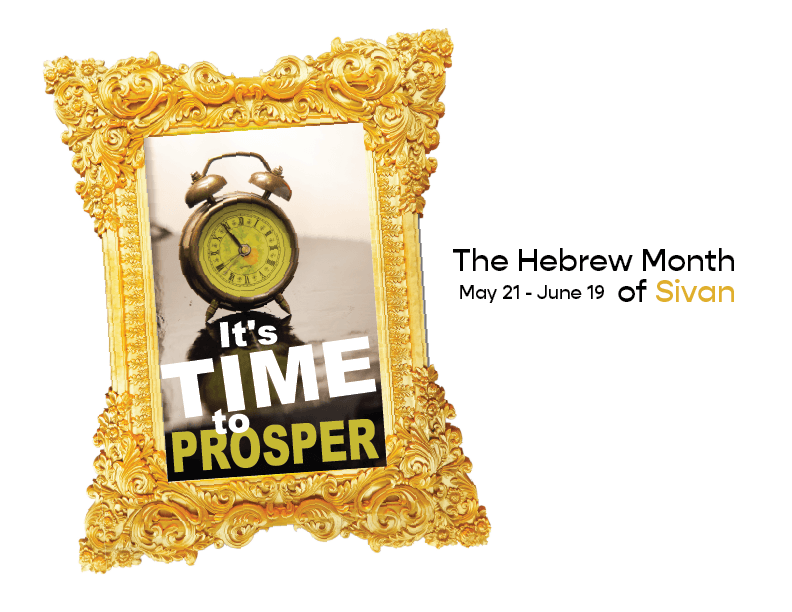 HEBREW MONTH OF SIVAN
MAY 21 - JUNE 19 2023
Sivan is the month of Pentecost. It is a time of celebrating God's physical provision, God's provision of revelation, God's provision of the Holy Spirit.
It's Time To Prosper!
Sivan is the gate of abundance. Abundance from the Bible is acknowledged to be a blessing from God.
Definitions of abundance are: extremely plentiful; over sufficient supply; overflowing fullness.
Limiting beliefs guard that gate and keep it closed off to you and I. A poverty mindset can complicate our journey and lead us to "just enough" and not God's "more than enough" promise.
The media and fear based news make up the invisible enemy that builds the case for scarcity and struggle.
Let's go with the Word for It's Time To Prosper.
II Kings 18 King Hezekiah
He held fast to the Lord and did not cease to follow Him. He kept the commands the Lord had given Moses. And the Lord was with him and he was prosperous in whatever he undertook.
III John
And I pray above all things that you would prosper and be in health even as your soul prospers.
Joshua 1
This book of the law shall not depart out of your mouth but you shall meditate on it day and night and that you would observe to do according to all that is written therein. For then you will make your way prosperous and you will have good success.
Success - intelligence; wisdom; prosperity; skillful
Prosper/Prosperity - to succeed on the road of life; to help someone on their path.
Acts 2
And when the day of Pentecost had fully come...suddenly there came a sound from heaven and it filled the house...and they were filled with the Holy Ghost and began to speak with other tongues...Peter preached and prophesied...and the same day about 3000 souls were saved...signs and wonders were done by the apostles...no one lacked anything...the church grew daily.
Prophetic Truths:
• I receive dramatic encounters with Holy Spirit.
• I learn new prosperity principles.
• I shift any poverty mindset to increase and multiplication.
• I break assignments of poverty against my life and family.
• I receive new boundaries, wisdom, provision and revelation.
DeeAnn and I bless you with Philippians 4:19:
"But my God shall supply all your need according to His riches in glory by Christ Jesus."
We give thanks to the Lord for your prayers and financial gifts and notes of encouragement.
Above All things...



Sandy Newman and DeeAnn Ward
---
2 Ways to Give
1. Mail: Destiny Ministries, PO Box 1081, Arkansas City, KS 67005
2. Online: www.DestinyMinistries.com/donate